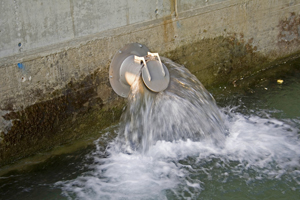 RTP provides comprehensive services to assist clients with obtaining environmental permits and necessary approvals for managing water issues.  RTP's team of experts has and continues to assist clients with a wide array of water permitting and compliance needs, including but not limited to, State and Federal permits under NPDES, pre-treatment, water allocation and public water distribution programs.
Clean Water Act regulations are complex and continue to evolve.  RTP is capable of completing activities associated with water compliance needs from simple to complex.  Our team of scientists, geologists, engineers, and technicians can provide assistance with all facets of the project, from applicability determinations to water quality projections, water quality monitoring, and water treatment system reviews.  Once a draft permit is provided, RTP is there to assist with agency negotiations, provide compliance schedules and support at public meetings.  We can assist you with regulatory interpretations, permit negotiations and expert testimony.
RTP often assists clients with compliance issues related to water regulations.  RTP can provide a review of existing site activities to determine what, if any, exposures may exist with respect to applicable regulations.  RTP's experts can then assist with the development and implementation of a compliance program tailored specifically to the site.  RTP can support your response to Notice of Violation (NOV) or Discharge Monitoring Report (DMR) issues.  We can assist with the development of corrective actions and compliance program updates as well as help negotiate with the regulatory agency.
In addition, RTP can assist with specific regulatory programs related to whole effluent toxicity (WET) testing.  Failed WET tests trigger Toxicity Reduction Evaluations (TRE) among other requirements.  RTP staff can assist the facility with preparation of the TRE plan, supporting Toxicity Identification Evaluation (TIE) and provide support with agency discussions and negotiations.  RTP can also facilitate with the development of corrective actions, if necessary, in support of plant compliance.
RTP has provided support to many clients with respect to industrial well permitting activities. Project development may require the construction and operation of industrial wells which must comply with the environmental requirements.  RTP can assist you with determining the type of permit or registration required to fit your needs.  RTP can also assist with securing the appropriate vendor, verify credentials, supervise site activities and secure the necessary records and pump testing to obtain approval for use.
In addition to well permitting, RTP can assist you with public water supply requirements.  If a facility has more than 25 full-time employees and uses water from an on-site well, it will be necessary to obtain a non-community, non-transient Public Water Supply (PWS) permit from the regulatory agency.  RTP can assist with the obtaining a proper well site survey, development of a water system management plan and preparation of pertinent application materials.
RTP's experts are also well acquainted in wastewater management and permitting, stormwater management and pollution prevention programs.