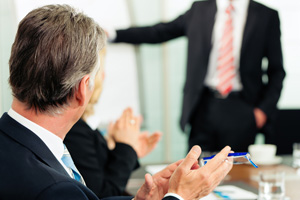 The Advanced NSR Workshop provides a comprehensive working knowledge of the manner in which EPA is interpreting the Clean Air Act New Source Review (NSR) rules and the documents that establish EPA NSR policies. Our instructors are widely regarded as the leading authorities on NSR and PSD and have instructed thousands of professionals on the intricacies of the regulations, EPA policy, and practical implementation. This course assumes a basic knowledge of the NSR air pollution permitting rules. It highlights the most important of the over 2,300 policy documents issued since 1974 interpreting the NSR rules. Both the Prevention of Significant Deterioration (PSD) NSR program (which applies in attainment and unclassifiable areas) and the Nonattainment Area NSR program are covered in this course.
Workshop attendees include professionals from industry, various law and consulting firms, and agencies. The diverse backgrounds and levels of experience of the attendees lead to extremely informative and productive discussions, which are an important benefit. As attendees have the opportunity to become more informed about many of the finer points of NSR, they enhance their opportunity to work together productively in the future.
The workshops are conveniently scheduled twice a year at various locations. Private workshops are available on request and have proven particularly popular with agencies. The workshops are 4 full days in length.
Upcoming Training Sessions:
Chicago, IL: March 27 - 30, 2023 (Registration Fee: $2,690.00)

Online registration is available for credit-card payments only. Please select "Individual Registrants" button below. For all other forms of payment please download a copy of the registration brochure here.
Government employees, and multiple employees from the same company, may be eligible for discounted rates. Please contact Karen Santala at santala@rtpenv.com for additional information.

Fall 2023