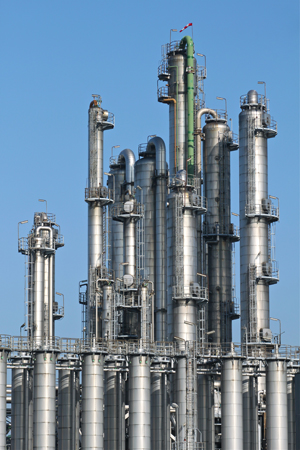 Emission inventories and process analyses are applicable to a number of air regulations from permitting applications to compliance audits, worker health and safety issues, the demonstration of compliance with ambient air quality standards and permit requirements as well as other specialized requirements. RTP's vast experience with pollution source processes and air regulations coupled with our varied project experience provides clients the assistance required to meet all regulatory demands for each specific project.
RTP staff include individuals with manufacturing experience, including Chemical Engineers, who can use engineering calculations to estimate air quality emissions from batch and continuous processes, taking into account filling emissions as well as emissions from mixing, heating and from other process steps.  These calculations are important aspects of permit applications and emission statements.  This experience is also invaluable for estimating the emissions from pharmaceutical and specialty chemical plants.
RTP's expertise in source sampling and Continuous Emission Monitoring sys­tems (CEMS) has been acquired through both research projects and field experience.  This experience also affords us with a detailed understanding of facility operations to specifically define regulatory requirements.  RTP conducts and manages source sampling for a variety of source cate­gories, including particulate emissions at steel mills, foundries, auto parts manufacturers, asphalt batch plants, power plants, portland cement plants and incinerators, as well as particle sizing with Anderson cascade impactors, Brinks particle sizers, Lundgren impactors and microscopy.  RTP also regularly collects data on oxides of nitrogen and carbon monoxide compliance testing at cogeneration facilities, power plants and ammonium nitrate plants; sulfur dioxide and sulfuric acid mist; total hydrocarbon measurements, for example, at car manufacturers, chemical facilities, electronic component plants, and large printing operations; fluorides, using EPA Method 13 for smelters, glass manufacturers  and electroplating plants; jet engine particulate characterization for FAA; and asbestos monitoring for private industries as well as municipal buildings. Because of the variety of experience in almost all industrial, commercial or private enterprises, RTP can provide an assessment of your specific needs from both regulatory and operational perspectives.